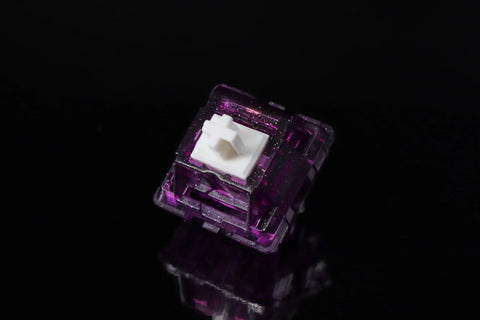 Prevail Nebula V2 Linear Switches
Pickup currently unavailable
Making a dazzling comeback, The Nebula V2 Switch by Control on Caps makes a return to the enthusiast keyboard community. Featuring an updated mould which resolves an uncommon ticking issue previously reported by some users, Nebula switches are back and they are here to stay!
Nebula switches feature a full nylon housing, LY material long-pole stem and 62g long progressive spring.
The housing is a beautiful translucent dark purple, with material added in to give it an effect of having distant stars in a purple nebula.
Version 2 uses a new bottom housing mould to help eliminate ticking issues that plagued a portion of the first iteration.
Specifications:
Switch Type: Linear
Number of Pins: 5
Actuation: 48g
Bottom Out: 62g
Total Travel: 4mm
Top Housing: Nylon
Bottom Housing: Nylon (V2 Mold, No Leaf Ticking)
Stem Material: LY
Factory Lubrication: Light
Spring: 19mm Progressive
Manufacturer: JWK
1 Quantity = 10 Switches
Authorized Regional Vendors:
SEA (You are here) - PantheonKeys
US - Loobed Switches
CA - Ashkeebs
UK - MechMods
AU - SwitchKeys
EU - KeyGem