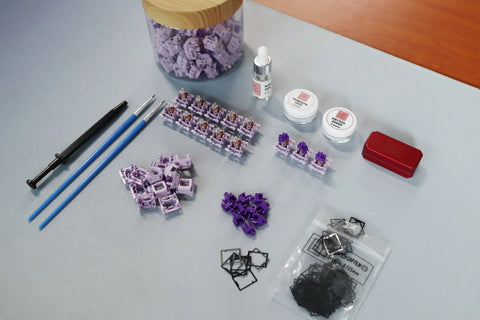 Switch Lubing / Filming Service
Pickup currently unavailable
This is an add-on service that you can include in your purchase. Alternatively you can send your switches in for us to work on.

Disclaimer: Please be aware that any modifications made to the switches will void the warranty. We kindly request that you proceed only if you are fully certain about your decision. Once an order has been placed, we are unable to accept any cancellations.

Each switch is carefully hand-lubricated with your choice of Krytox 205g0 or Tribosys 3203, ensuring smooth and consistent performance. The springs are also treated with Krytox 105 to minimise any unwanted pings.
To enhance overall switch performance, we use clear TX films with thickness options of 0.15mm or 0.125mm. These films help to reduce wobble and create a more stable typing experience. 
1 quantity = 10 switches. 
Please note that the availability of our switch lubing service is limited each week.

Please keep in mind that we require an additional 3-5 working days to process your order to ensure attention to detail and quality control. Your satisfaction is our top priority, and we appreciate your patience.
Service Offered:
- Bottom housing and stem are hand-lubricated with either Krytox 205g0 or Tribosys 3203.
- The springs are lubed with Krytox 105.
- Clear TX films will be used for the 0.15mm and 0.125mm options
If you require any additional services or have specific needs that are not mentioned above, we encourage you to contact us. You can reach out to us via email or Discord, and our team will be happy to assist you.